Reconciliation Within the Agriculture Industry 
Image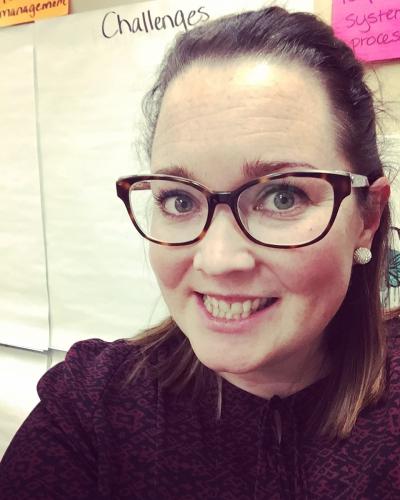 Leah Sharpe
Director, Culture, Leadership and Employee Experience at Farm Credit Canada
Truth and Reconciliation
One way that Farm Credit Canada (FCC) is trying to move toward reconciliation is by understanding the history of the organization itself. FCC's Indigenous Relations team conducted research that helped FCC connect its creation and history to colonial policy. This truth-telling enables FCC and its employees to deepen their shared commitment to a different path forward. 
Two years ago, FCC launched an all-employee extensive Indigenous awareness learning with Four Seasons of Reconciliation. More than 2,000 employees have completed the learning – and FCC continues to make the learning part of its required onboarding learning for all new employees and external consultants who work regularly with FCC. The training provides employees with knowledge about Canada's colonial history. It also explores the historic, social, and economic barriers faced by First Nations, Métis, and Inuit communities across Canada.
FCC has empowered employees to write and share personal land acknowledgements and has created opportunities for FCC offices to purchase art from local Indigenous artists. FCC is also working to ensure each office has a visible acknowledgement of the treaty or territory on which the office sits. In June 2022, FCC raised the Treaty 4 and Métis flags at its Corporate Office in Regina, Sask. to acknowledge the traditional territories of Indigenous Peoples and commemorate the agreement made to share this land. The day included a pipe ceremony with Elder Murray Ironchild from Piapot First Nation. FCC plans to engage local employees in the creation of the land acknowledgements that will be displayed in other FCC offices to help deepen employees' understanding of their connection to the land they work on and to create a more sustained connection to any efforts made with a genuine desire for reconciliation.
Indigenous employment
Recruitment
The team at FCC is currently executing their Indigenous Employment Equity Plan, which focuses on workforce supply, talent, and candidate readiness (recruitment, retention, advancement, and partnership), and workplace inclusion and accountability. The organization sets an annual goal that at least 20% of new hires be members of equity-deserving groups. This year, through a strong focus on engaging leaders on the importance of equitable and inclusive leadership, 30% of new hires are from equity-deserving groups. 
Retention
To make the workplace more equitable and inclusive, FCC regularly revises its policies and practices to remove any exclusionary language. For example, a former FCC dress code policy stated that moccasins were prohibited. The updated version removed this reference. FCC seeks to establish transparency and accountability in its public commitments. This example is a way they have learned from past mistakes and grown.
Experience
FCC is updating their exit interviews to better understand when and why employees are leaving their organization, and who is leaving. The goal is to gather data and feedback from employees who are exiting that might help FCC identify workplace barriers and any opportunities around equity and inclusion that should be seized. 
Partnerships
FCC is committed to building long-term relationships with key partners in the Indigenous agriculture and food sector with the aim of being a trusted partner of Indigenous Peoples' full participation in the industry. FCC seeks partnerships with Indigenous communities to develop solutions that address community priorities, as well as organizations like Indigenous Works that can offer guidance on how to better engage Indigenous Peoples. 
To advance this goal, FCC is in the early stages of developing an advanced Indigenous awareness training program. This training focuses on supporting employees working directly with Indigenous communities, enabling them to expand their knowledge, skills, and cultural etiquette to build sustainable relationships.
The knowledge gained through expert partnerships has enabled the organization to make new partnerships with Indigenous communities. For example, FCC partnered with File Hills Qu'Appelle (FHQ) Developments to address food security issues and supply traditional herbal medicines to community members. FHQ Developments is owned by the File Hills Tribal Council, representing 11 Saskatchewan First Nations in Treaty 4 territory. FCC formed this partnership in the spirit of reconciliation to build an understanding of the community's challenges and successes. As an outcome of this partnership, FCC is contributing $250,000 to help finance the creation of a greenhouse. One goal of the greenhouse project is to share learnings with other Indigenous groups to bring them closer to food security and sovereignty. The organization is also collaborating with FHQ Developments on ways to expand future business opportunities and strengthen relationships with Indigenous communities. 
Indigenous Works Support  
With Shaun Soonias, Director of Indigenous Relations at Farm Credit Canada, on the board of Indigenous Works, FCC works closely with Indigenous Works utilizing resources like training, consulting and certifications that Indigenous Works provides valuable members like FFC.
Employment Systems Review
IW conducted an "employment systems review" in 2019 to help the HR team at FFC to prepare their Indigenous Employment Systems Review and the Three-year Indigenous Employment Equity Plan which included a: comprehensive project workplan and charter, documents review, analytics review, facilitated workshop on their company's position on the Inclusion Continuum, policy review, and more.
Employment Equity Plan 
An Employment Equity plan report was conducted in 2020 by IW to help employers: identify and eliminate barriers in an organization's employment procedures and policies institute positive policies, practices that ensure the effects of systemic barriers are eliminated and ensure appropriate representation of 'designated group' members throughout their workforce. This helps FFC achieve equality in the workplace so that no person shall be denied employment opportunities or benefits for reasons unrelated to ability and in the fulfillment of that goal, to correct the conditions of disadvantage in employment experienced Aboriginal Peoples.
Employer of Choice Certification Program
FCC is committed to engage in the "Employer of Choice Certification Program" to be advanced in 2023 which focuses on ongoing and continuous improvement of their Indigenous employment and workplace inclusion goals. Through collaboration with IW, it enabled FCC to advance their strategy and build a roadmap for a more inclusive and engaged relationship with Indigenous peoples moving forward.
Conclusion
FCC is proud to have shared some of the initiatives it has in place to advance a more equitable and mutually beneficial relationship with Indigenous Peoples, communities, and Nations. FCC  shared that with every success they have, there are always more areas to expand upon. This humility and desire for change is one of the reasons their organization has made great strides in the last few years and we are excited to continue to watch FCC's journey.