Indigenous Works' Approach to Indigenous Employment and Workplace Inclusion
Indigenous Works has developed two foundational models which it uses in its program: 
1. Indigenous Inclusion Continuum
The "heart" of Indigenous Works' system is its seven-stage model, the Inclusion Continuum. The model depicts the roadmap that companies follow to become more inclusive, gradually enabling more effective and sophisticated workplace and employment strategies to be developed. The Continuum model describes the organizational competencies needed at each stage to achieve elevated levels of performance in Indigenous employment and workplace inclusion. 
Image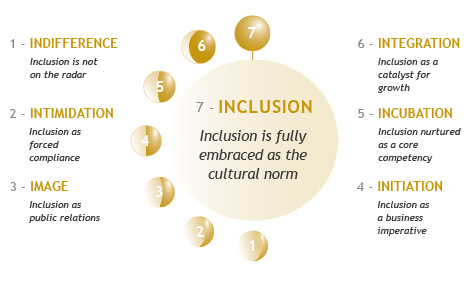 Using this model, Indigenous Works looks at your company's policies, strategies and practices, the organizational knowledge and Indigenous cultural know-how you have developed, and how you leverage those knowledge assets to guide the development and implementation of your Indigenous employment and workplace strategies and practices.
---
2. Corporate-Indigenous Partnership Model
Indigenous Works' has also developed its 'Corporate/ Indigenous Partnership Model'. The value of the model is that it makes possible much more detailed and precise observations about your company's Indigenous engagement and partnership building acumen. We can be more diagnostic and prescriptive since the diagram provides a way to 'parse' the discussion and pinpoint what aspects of partnership formation need to be addressed.
Our Navigating Indigenous Employment program describes the processes and systems which describe how employment partnerships are built between companies and Indigenous organizations. Your ability to build collaborative employment strategies with Indigenous organizations improves with your ability to grow trusting relationships and engagements. We will teach you how. Employment partnerships are a way to create new value and leverage new opportunities for Indigenous recruitment, advancement, and retention.
Image