Indigenous Works can help assess and expand your knowledge, competencies and strategies. 
We can help you take the next best step on your Indigenous inclusion journey.
1. Employer of Choice (EoC) Initial Assessment + Certification
Getting Started with the Inclusion Continuum 
Step 1: EoC Initial Assessment
Many organizations are just getting started in the area of Indigenous inclusion and want to focus on key areas to better Employer practices. To assist with this, we conduct an initial Inclusion Assessment using a diagnostic survey tool and focus group with your key engagement staff. During this session, our team will orient you to our 'Employer Guide' and assist you in evaluating your current practices and strategies. We will create a baseline report that is a valuable road map for organizational workplace change, cultural competencies and Indigenous talent acquisition. We will also share with you high-level areas where transformation is still needed. This is an overview of your current baseline to determine where your organization sits on the Inclusion Continuum.
Step 2: EoC Certification
Once this initial assessment is completed, your organization will be officially climbing the Inclusion Continuum and on your way to becoming certified as an Indigenous Works Employer of Choice. You may decide if you require in-person training, advisory services or to take other actions to prepare for the certification process.
When you are ready, we will provide you with a Certification Orientation Kit needed to prepare for the second phase in the process. Your team will decide when you are ready to challenge the Employer of Choice Certification Audit. This is a 30-question self-assessment tool which is submitted to Indigenous Works for evaluation. Once the Audit is successfully completed, and you meet the criteria, your organization will receive an official certificate of completion, and the authorization to use the Indigenous Works' Employer of Choice certified employer logo on your communications, marketing, employment and engagement efforts. 
The Indigenous Works Employer of Choice Initial Assessment + Certification program is the only program of its kind exclusively focused on the workplace and Indigenous employment strategies. We are seeking employers that are committed to excellence and continuous improvement in the workplace, as such this unique program is only available to Indigenous Works' Employer Partners.
In order to maintain your certification and authorization we invite you to recertify every two years from the time of your first successful Audit process. 
Partner Rate - CAD $15,000 (Invoiced in 2 parts: Initial Assessment  $7,500; Certification Audit $7,500)
*Offer exclusive for our Employer Partners
Indigenous Inclusion Continuum
Image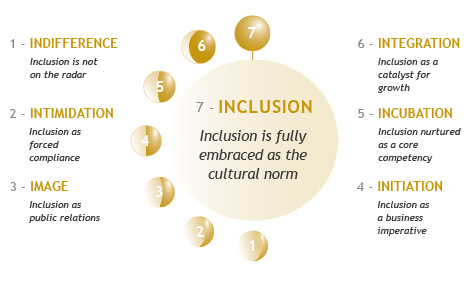 ---
2. Indigenous Labour Market Ecosystem
Where can you find your next winning candidate?
The Indigenous labour market functions like an ecosystem. Indigenous job seekers are scouring job posts and eager employers want to source and hire the best talent. How do you navigate an increasingly complex labour market system? 
There are many organizations offering to help connect candidates and employers such as:  specialists in career planning; talent sourcing specialists; skills upgrading; cultural awareness training; and, many others. These organizations are both regional and national. Which are best for your organization to partner with to achieve your Indigenous recruitment goals?
The mastery of your particular Indigenous labour market ecosystem is essential to your success and meeting your metrics. We can help you map your ecosystem in the areas where you operate. We can identify and recommend the best partners to leverage and learn from as you continue your journey to full and equitable Indigenous inclusion in your workplace.
---
3. Workplace Barometer
Do you have systemic barriers to implementing your Indigenous employment strategy?
Like a barometer helps measure pressure and forecasts the weather and altitude, our Barometer methodology identifies your pressure points, it forecasts a new trajectory, and creates a roadmap to take your workplace inclusion strategies to new heights. We conduct confidential interviews with 8-12 managers from different parts of your organization to learn their realities, challenges and barriers to fulfilling your Indigenous inclusion goals and strategies. These candid conversations help to uncover new insights and opportunities while identifying potential bottlenecks and systems barriers to achieving your workplace inclusion goals. 
The Barometer Report describes your core top-line issues, opportunities and recommendations to make your team more productive. We find employees are more than willing to share their insights, especially when it's with an independent third party. This barometer roadmap report will open a dialogue about the next best steps for leadership, management and employees to work more effectively together.
Our Barometer is a systematic and neutral way to analyze the precise hurdles to overcome. Our proven methodology analyzes the issues and barriers you face in your efforts to implement your strategies and grow your Indigenous employment results.
Contact Us for an Advisory Quote