Image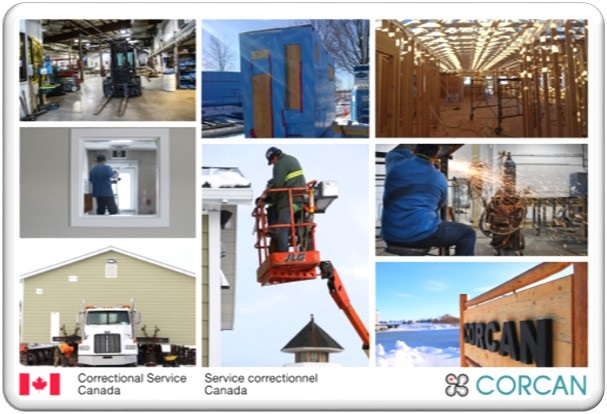 Douglas De Vos- Manager, Partnership & Engagement, CORCAN + Kelly Hartle- Outgoing CEO, CORCAN
Rehabilitation and Reintegration for Reconciliation 
CORCAN is a key rehabilitation program of Correctional Services Canada (CSC) that provides offenders with employment and employability skills training while they are incarcerated in federal penitentiaries and after they are released into the community. Their goal is to safely reintegrate offenders into society in a way that promotes their success as Canadian citizens. 
Some of their services include on-the-job training, apprenticeship hours, vocational certificates, and essential skills training. To increase the likeliness of maintaining employment, they also teach skills that are necessary to enter the labour market including; communication skills, teamwork skills, personal skills (dependability, time management, organizational), and technical skills. This support provides offenders with opportunities to explore different careers and build confidence. 
Indigenous Peoples are disproportionately represented in the Canadian federal correctional system which CSC acknowledges and strives to address the issue. CSC's strategic plan for Indigenous Corrections acknowledges and responds to the needs of all Indigenous offenders and contributes to safe and healthy communities. CORCAN specifically targets Indigenous populations through its Indigenous Offender Employment Initiative, enhancing employment-related training and services for Indigenous offenders, building partnerships with Indigenous communities, and endeavors to hire Indigenous employees.
Making Connections 
It is crucial that CORCAN creates a workplace that is culturally informed, giving space for Indigenous Peoples to be themselves. CORCAN actively seeks out instructors from various employment equity groups including Indigenous women, and visible minorities. Indigenous employees are vital to their team as they give offenders role models which can have a transformative impact on offender behaviour. Not only does the instructor understand an offender's culture and upbringing, but they also give offenders something to aspire to. 
Indigenous staff recruitment can be a challenge for CORCAN. They regularly post on their job board seeking someone who self-identifies as Indigenous, but their program is not as well known. As a result, they actively attend conferences, forums, and trade shows to build awareness about their services and employment opportunities. They also build relationships with Indigenous communities through in-person visits, and phone calls to invite their communities to view CORCAN's facilities and to share the products and services that are offered. This offers transparency and allows Indigenous communities to see the work that CORCAN does. Partnerships are valuable as these relationships allow CORCAN to continue to offer its products and services by reinvesting any generated revenues directly back into the program. It also challenges their team to think more innovatively and to become more culturally aware. The team at CORCAN welcomes new ideas as they can lead to new programs and plans that they may not have been considered in the past.  
Indigenous Culture
An example of the work that CORCAN does can be found in the CBC documentary, Prison Farm. The video follows four inmates' journeys through their incarceration, showing the challenges and benefits of working on prison farms. The documentary shows the inmates' growth through the rehabilitation process while also challenging stereotypes of inmates. One inmate, Dan, is Métis but grew up disconnected from his culture. Through this experience of working so closely with nature, he was able to reconnect with other Indigenous men, his spirituality, and The Creator. 
More information about the CORCAN program can be found at www.CORCAN.gc.ca, including more videos and stories about the CORCAN program at CORCAN success stories.
Building Awareness 
As CORCAN moves forward, they are looking to continue to build awareness in two main areas. 
Employees: They are always looking to recruit more instructors who identify as Indigenous to further contribute to their cultural competency. Working at CORCAN is a rewarding experience, both creating products and also supporting program participants. They encourage people to learn more and consider applying at 
 Employers: CORCAN's role is not only to build employment skills but also to help offenders find employment. They encourage employers to consider their skilled offenders when they are looking to recruit. To do this work CORCAN's Employment Coordinators (EC) actively seek out new potential employers in communities across the country with the goal of increasing employment opportunities for those being released into the community. Contact CORCAN today to find out how to fill your workforce needs at [email protected].