Supporting Indigenous Advancement
Image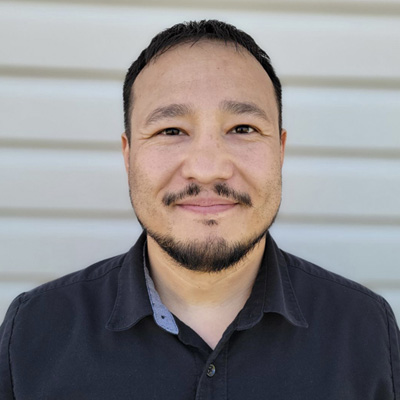 Skylar Sloan, P.Eng
Regional Asset Reliability, Measurement Specialist at TC Energy
TC Energy Corporation is a major North American energy company that develops and operates energy infrastructure in Canada, the United States, and Mexico. The company operates three core businesses which include Natural Gas Pipelines, Liquids Pipelines, and Power Generation. For over 40 years, TC Energy has built and maintained relationships with Indigenous Peoples based on respect, trust, open communication, and recognition that many of their activities occur on traditional lands.
Skylar Sloan currently works at TC Energy where he was introduced to this company through the Inclusion Works National Recruitment Fair in 2009. This event gave employers and Indigenous candidates the opportunity to meet. With a background in electrical engineering at Lakehead University, Skylar was qualified for roles at TC Energy (formerly TransCanada) but ultimately chose to work for them after learning about the work that TC Energy does. TC Energy has a lot of career paths and encourages employees to pursue the opportunities they want. Skylar has grown a lot at this company and hopes to step into a leadership role as the next step in his career. 
We were fortunate to have the opportunity to speak with Skylar and catch up with him about how his career at TC Energy is progressing. Below are some of his thoughts. 
What is your proudest moment in your career? 
[TC Energy] has recognized that having a diverse, open, and honest company culture that rewards good behaviors is more effective than having a company culture that penalizes people for mistakes. My proudest moment was when I got to be the Chair of our Regional Culture Team, to advocate for increasing our company's culture. It was my proudest moment because even though I have always had those values, it was the first time I got to be in a leadership role and inspire my team. In that role, I found out that my true calling is inspiring people.
What support in your previous (or current) workplaces was offered to Indigenous professionals? How effective was it? 
Back in 2009 when I first joined the company, I was asked to join an Indigenous working group to help support Indigenous employees. I know for myself it was a huge change coming from a village of 500 people to a city of million people. Then you add on top of that, the corporate culture in downtown Calgary, which is significantly different than what I was used to. I was only a part of that working group for a short time, because unfortunately as a new Engineering In Training (E.I.T) employee, my workload was way too busy to be an effective member of the Indigenous working group. Even though I was only a part of this working group for only short while, it was very nice to have that support group.
The company is very involved with indigenous communities and activities. They always have some events planned for Aboriginal Awareness Week and have some internal training as well. Way before Truth and Reconciliation hit mainstream social media, the company had a training model about residential schools. It is crazy to think that my Kokum attended residential school, and I was very close to her, I knew nothing about it. But I guess I was probably too young to hear about those dark times. Growing up with a white dad and a native mother, I was fortunate to be accepted by both races, I had native and white friends growing up. Growing up, I was never fully engaged in the native culture and felt bad about it, like I should know more. Hearing about the whole residential schools, now made me realize why I didn't have as strong a connection to the native culture that I should have. Also because of the residential schools, I understand the generational trauma this has caused. In some way, I would like to help reverse those traumas by inspiring and instilling self-confidence in the native people by becoming a motivational speaker one day.
What was your favourite part of being a part of the Inclusion Works event? 
My favourite part was the whole experience. The keynote speakers, combined with the Skill Build part of the event were so inspirational and gave me so much confidence for my interviews. I left the event with a job and a newfound excitement, happiness, and the feeling that I could do anything.
 
What support has Indigenous Works offered you that helped you grow professionally? What support do you need currently?
Indigenous Works set up a job fair to help graduates get their first job, including myself. 
I would like to step into more leadership roles so offering training/workshops to support growth in that area would be beneficial. I am specifically looking for opportunities to develop my communication skills so that I can support a team. 
What do you think all leaders should know about supporting Indigenous employees? 
To have an understanding of the residential schools and to know there are a lot of talented Indigenous people out there if you show them respect and give them a chance.  
Do you have any advice for new Indigenous professionals?
If there is a will, there is a way. Ambition and determination will take you anywhere you want to go so do your best to get your foot in the door and take advantage of opportunities.
TC Energy sets a great example for other employers on ways they can create a more inclusive environment for their Indigenous employees. It is clear that Skylar has felt supported throughout his time at TC Energy and we are so excited to see him continue to advance in his career.